This is a type of 70/30 Brass that is widely being used for defense applications.
Alloy Names (as per RoHS specifications)
IS/ISO
CuZn30
DIN CEN/TS 13388
CW505L
UNS
C26000
JIS
C26000
| Chemical Composition | Weight percentage |
| --- | --- |
| Copper [Cu] | 68.5 % to 71.5% |
| Total Impurities | 0.05% Max. |
| Zinc [Zn] | Remainder |
Characterists
Outstanding deep drawing properties therefore widely used in defence application.
Good forming properties & mechanical strength.
Main Applications
Defence : cartridge below bullet envelop for storing propellant, mechanical housings for lighters, mechanical housings for ammunition, ammunition.
Electrical: Terminal Connecto, Flashlight Shells, Lamp Fixtures and Reflectors.
Consumer : Costume designed Watch parts,Jewellery, Buttons, Chains,Hardware handles,Lock, snaps, planters, fireplace screens, etched articles, bird cages, coinage, chain links, pen/pencil inserts and clips, syringe parts, shells, electrical sockets, lamps.
Industrial: air pressure conveyer systems, sound proofing equipment, springs, chain, bead chain, tubing for instruments and machines, heat exchangers, pump cylinders, wire screens, pumps, liners, power cylinders.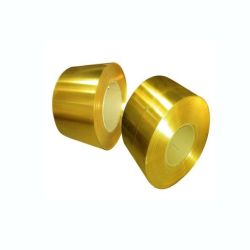 Properties
| | |
| --- | --- |
| | Metric |
| Melting Point - Liquidus | 954 °C |
| Melting Point - Solidus | 916 °C |
| Densithy | 8.53 gm/cm³ at 20 °C |
| Specific Gravity | 8.53 |
| Electrical Conductivity | 0.162 MegaSiemens/cm at 20 °C |
| Thermal Conductivity | 121.2 W/m at 20 °C |
| Coefficient of Thermal Expansion | 19.2 . 10‾⁶ per °C (20°-300° C |
| Specific Heat Capacity | 377.1 J/kg at 293 °C |
| Modulus of Elasticity in Tension | 110317 Mpa |
| Modulus of Rigidity | 41369 Mpa |
| Physical Properties Provided by CDA | |
| | | | | |
| --- | --- | --- | --- | --- |
| Temper | Tensile Strength Rm Mpa(N/mm2) | Yield Strength Rp0.2 MPa(N/mm2) | Elongation Minimum A50mm % | Hardness HV |
| O (Soft) | 280 Min | < 160 | 50 Min | 80 Max |
| HA (Quarter Hard) | 325 Min | iY 170 | 35 Min | 75 Min |
| HB (Half Hard) | 325 Min | iY 200 | 20 Min | 100 Min |
| HD (Hard) | 415 Min | iY 260 | 5 Min | 125 Min |
| HE (Extra Hard) | 522 Min | iY 400 | | 165 Min |
| | |
| --- | --- |
| Joining Technique | Suitability |
| Soldering | Excellent |
| Brazing | Excellent |
| Oxyacetylene Welding | Good |
| Gas Shielded Arc Welding | Good |
| Coated Metal Arc Welding | Not Recommended |
| Spot Weld | Fair |
| Seam Weld | Not Recommended |
| Butt Weld | Good |
| Capacity for Being Cold Worked | Excellent |
| Capacity for Being Hot Formed | Fair |
| Fabrication Properties Provided by CDA | |