We make available the best grade that is ideally used for the manufacture of radiator tube and tank, lock and key, and electrical contact applications.
Alloy Names (as per RoHS specifications)
IS/ISO
CuZn40
DIN CEN/TS 13388
CW617N
UNS
C28000
| Chemical Composition | Weight percentage |
| --- | --- |
| Copper [Cu] | 58.5% to 61% |
| Lead [Pb] | 0.8% to 2% |
| Zinc [Zn] | 34.5% to 40% |
Characterists
Anti corrosive.
Enhanced mechanical strength .
Excellent hot forming properties and high machinability.
Used extensively in the production of more complex hot pressed components
Main Applications
Industrial : Locks, Metal Fittings, Keys, Hinges,bearing cages, Valve Bodies for Refrigeration, Forgings and Pressings of All Kinds.
Architecture : Decoration, Hardware,Door Frames, Large Architectural Trim,Large sheet., decorative Knobs, Furniture Hardware.
Consumer : Golf Putters, Valve Bodies for Scuba & Propane Spray Tanks, Valve Bodies for Agricultural Spray Tanks.
Electrical : Covers, Fuse Bodies.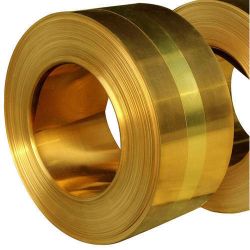 Properties
| | | |
| --- | --- | --- |
| Density | 8.41 | g/cm³ |
| Thermal expansion coefficient - 191 .. 16 | 20.3 | 10-6/K |
| 0 .. 300 °C | 21 | 10-6/K |
| Specific Heat Capacity | 0.375 | J/(g.k) |
| Thermal Conductivity | 117 | W/(m.k) |
| Electrical Conductivity (1 MS/m = 1 m/(O mm²) | iY 15 | MS/m |
| Electrical Conductivity (IACS) | 26 | % |
| Thermal coefficient of electrical resistance (0 - 200°C) | 1.7 | 10-3/K |
| Modulus of elasticity (1 Gpa = 1 kN/mm²) cold formed | 99 .. 115 | Gpa |
| | 102 | GPa |
| | | | | |
| --- | --- | --- | --- | --- |
| Temper | Tensile Strength Rm Mpa(N/mm2) | Yield Strength Rp0.2 MPa(N/mm2) | Elongation Minimum A50mm % | Hardness HV |
| O (Soft) | 275 Min | - | 35 Min | 85 Max |
| HB (Half Hard) | 420 Min | - | 15 Min | 100 Min |
| HD (Hard) | 490 Min | - | 5 Min | 125 Min |
| HE (Extra Hard) | 525 Min | - | | 165 Min |
| | |
| --- | --- |
| Joining Technique | Suitability |
| Soldering | Excellent |
| Brazing | Good |
| Oxyacetylene Welding | Not Recommended |
| Gas Shielded Arc Welding | Not Recommended |
| Coated metal Arc Welding | Not Recommended |
| Spot Weld | Not Recommended |
| Seam Weld | Not Recommended |
| Bytt Weld | Fair |
| Capacity for Being Cold Worked | Poor |
| Capactity for Beiing Hot Formed | Excellent |