Applications
Consumer: Holloware, Musical Instrument Parts, Radio Dials, Name Plates, Hollow Ware, Costume Jewelry, Camera Parts, Bows, Table Flat Ware, Zippers.
Fasteners: Screws, Rivets.
Industrial: Truss Wire, Base for Silver Plate, Core Bars, Templates, Etching Stock.
Characterists
NS 106 is one of the most popular grades of nickel silver for deep drawing, spinning and other cold forming operations.
It combines good strength and ductility with outstanding resistance to wear, corrosion and tarnish.
It accepts a high degree of polish to a slivery white colour, aesthetically pleasing in its own right, while also providing an excellent base material for plated silverware - still on of its traditional uses.
the alloy also finds many electrical and electronic applications and is readily soldered and silver brazed.
the sheets are stocked in soft temper suitable for extensive cold working.
Nominal Composition
Cu
Ni
Fe
Mn
Pb
Zn
60.0 - 65.0 %
17.0 - 19.0 %
0.30 % Max.
0.05 - 0.50 %
0.03 % Max.
Rem.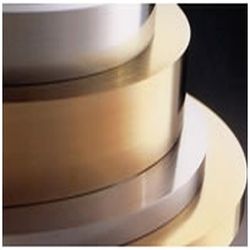 Properties
| | |
| --- | --- |
| Ultimate Tensile strength (N/mm²) | 390 |
| 0.2% Proof strength (N/mm²) | 120 |
| Elongation (%) | 45 |
| Hardness (HV) | 80 |
| | |
| --- | --- |
| Density (g/cm³) | 8.75 |
| Melting Range (°C) | 1060 1110 |
| Thermal conductivity (W/m°C) | 25 |
| Electrical Resistivity (μΩ.cm) | 29 |
| Electrical Conductivity (%IACS) | 6 |
| Magnetic Permeability | 1.05 Max. |
| Modulus of Elasticity (N/mm²) | 135,000 |
| | |
| --- | --- |
| Joining Technique | Suitability |
| Soldering | Excellent |
| Brazing | Excellent |
| Oxyacetylene Welding | Good |
| Gas Shielded Arc Welding | fair |
| Coated Metal Arc Welding | Not Recommended |
| Spot Weld | good |
| Seam Weld | fair |
| Butt Weld | Good |
| Capacity for Being Cold Worked | Excellent |
| Capacity for Being Hot Formed | poor |