Alloy Names (as per RoHS specifications)
IS/ISO
CuSn4
DIN CEN/TS 13388
CW450K
UNS
C51100
JIS
C51100
| Chemical Composition | Weight percentage |
| --- | --- |
| Tin [Sn] | 3.5 % to 4.5% |
| Phosphorus [P] | 0.03% to 0.35% |
| Zinc [Zn] | 0.30% Maximum |
| Lead [Pb] | 0.05 % Maximum |
| Copper [Cu] | Remainder % |
Characterists
Possessing excellent mechanical strength along with desirable ductility for sheet metal processing.
Provides an excellent combination of strength, excellent formability and hardness.
Good electrical conductivity and corrosion resistance.
Excellent Soldering and brazing properties.
Main Applications
Electrical : Contact Springs,Relais Springs,Terminals,Switch Parts Fuse Clips,Electronic connectors.
Fasteners : Lock Washers,Fasteners.
Industrial : Textile Machinery,perforated Sheets,Springs,Sleeve Bushing,Clutch Disks.
General : Stamped parts,Connectors,Contact Springs,spring Elements,Ultra high strength spring elements,Fixed contacts.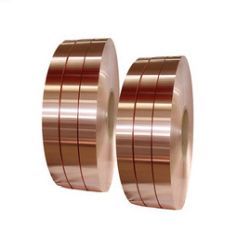 Properties
| | | |
| --- | --- | --- |
| Density | 8.85 | g/cm3 |
| Thermal expansion coefficient - 191..16 | 17.8 | 10-6/K |
| 0..300°C | 18.1 | 10-6/K |
| Specific heat capacity | 0.377 | J/(g·K) |
| Thermal Conductivity | 100 | W/(m·K) |
| Electrical Conductivity (1 MS/m = 1 m/(O mm²) | ≥ 11 | MS/m |
| Electrical Conductivity (IACS) | ≥ 19 | % |
| Thermal coefficient of electrical resistance (0..200 C) | 0.1 | 10-3/K |
| Modulus of elasticity (1 Gpa = 1 kN/mm²) cold formed | 110 | Gpa |
| | 120 | Gpa |
| | | | | |
| --- | --- | --- | --- | --- |
| Temper | Tensile Strength | Yield Strength | Elongation Minimum | Hardness HV |
| | Rm | Rp0.2 | A50mm | |
| | MPa(N/mm2) | MPa(N/mm2) | % | |
| O (Soft) | 295 Min | ≤ 190* | 40 Min | 80 Max |
| HA (Quater Hard) | 340 Min | ≥ 320 | 30 Min | 100 Min |
| HB (Half Hard) | 430 Min | ≥ 440 | 8 Min | 150 Min |
| HD (Hard) | 510 Min | ≥ 480 | 4 Min | 175 Min |
| HE (Extra Hard) | 620 Min | ≥ 560 | 2 Min | 180 Min |
| HS (Spring Hard) | 650 Min | ≥ 620 | | 200 Min |