Alloy Names (as per RoHS specifications)
DIN CEN/TS 13388
CW004A
UNS
C11000
| Chemical Composition | Weight percentage |
| --- | --- |
| Copper [Cu] | 99.9 % |
| Oxygen [P] | 50 to 400 PPM |
| Lead [Sn] | 0.005% Max. |
| Total Impurity | < 0.02% |
Characterists
High electrical as well as thermal conductive material.
Good formability.
Excellent corrosion resistance.
Recyclable.
Prone to hydrogen embrittlement.
Main Applications
Electrical : Foil wound transformers in electrical panels & transmissions, Electrical bus bars & conductors, Components of electrical switches, anodes, cable wrap acts as shielding tape, able tape in the form of ultra-thin foil of 40 micron thickness in power cables, Terminals, Contacts, Flexible Busbars, XLPE Cable Wrap/Shielding Tapes .
Industrial : Heat Sinks, Stamped/Punched parts, Chlorine Battery Caps.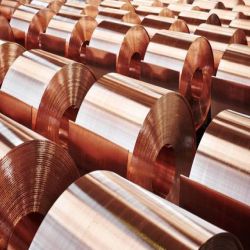 Properties
| | | |
| --- | --- | --- |
| Density | 8.89 | g/cm³ |
| Thermal expansion coefficient - 191 .. 16 | 14.1 | 10-6/K |
| 0 .. 300 °C | 17.7 | 10-6/K |
| Specific Heat Capacity | 0.386 | J/(g.k) |
| Thermal Conductivity | 394 | W/(m.k) |
| Electrical Conductivity (1 MS/m = 1 m/(O mm²) | 58"}">> 58 | MS/m |
| Electrical Conductivity (IACS) | 100"}">> 100 | % |
| Thermal coefficient of electrical resistance (0 - 200 °C) | 3.7 | 10-3/K |
| Modulus of elasticity (1 Gpa = kN/mm²) cold formed | 130 | Gpa |
| | 127 | GPa |
Designation
TENSILE STRENGHT
ELONGATION
HARDNESS
GRAIN
Rm (N/mm²)
A50 MM % thickness ≤2,5mm
A50% thickness >2,5mm
HV
MM
Min.
Max
Min.
Min.
Min.
Max
Min.
Max
R220
220
260
33
42
-
-
-
-
H040
-
-
-
-
40
65
-
-
R240
240
300
8
15
-
-
-
-
H065
-
-
-
-
65
95
-
-
R290
290
360
4
6
-
-
-
-
H090
-
-
-
-
90
110
-
-
R360
360
-
2
-
-
-
-
-
H110
-
-
-
-
110
-
-
-
| | |
| --- | --- |
| Shearing | *  * |
| Deep Drawing | *  *  *  * |
| Surface Treatment | *  *  *  * |
| Welding | *  *  *  * |
| Bending | *  *  * |