Applications
Alloys due to it's high purity of 99.5% aluminum widely used in a number of electrical and other industriepower capacitor, insulation material
Characteristics
Strong corrosion resistance.
Sensitive to high temperatures .These alloys are considered as good low-temperature alloys as their strength increases when exposed to subzero temperatures and they lose some of the strength when exposed to high temperatures.
Having good Electrical Conduction property and formability.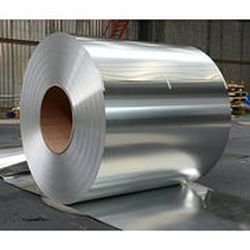 Properties
The chemical composition of Alyminium / Aluminum 1350 alloy is perdominantly aluminium alloyed with very small amounts of other elements.
| | |
| --- | --- |
| Element | Content (%) |
| Aluminum (Al) | 99.50% Min. |
| Copper- (Cu) | 0.05% Max. |
| Manganese-( Mn) | 0.05% Max. |
| Iron - (Fe) | 0.40% Max. |
| Zinc- (Zn) | 0.10% Max |
| Chromium (Cr) | 0.01% |
| Silicon-(Si) | 0.10% |
| | | |
| --- | --- | --- |
| Properties | Metric | Imperial |
| Density | 2.6-2.8 g/cm³ | 0.0939-0.1011 Ib/in³ |
| | | |
| --- | --- | --- |
| Properties | Metric | Imperial |
| Elastic modulus | 70-80 Gpa | 10152-11603 ksi |
| Poisson's ratio | 0.33 | 0.33 |
Properties
Imperial
T(°C)
Treatment
Thermal Expansion
230(W/mK)
25
All Hix