Alloy Names
UNS
8079
ASTM
B209
Applications
PTP foil, cold-forming foil, Aluminium-Aluminium foil-Blister packages(double side for Pharmaceuticals products such as capsules, tablets, pill,  small-size food, candy etc
Characteristics
Flexible and uniique metal that can be brazed, welded, riverted, or resin bonded.
Requires no protective coating for most applications, as it is already corrosion resistant.
The metal is often anodized to enhance color and strength.
Provide very strong barrier to UV rays, Moisture & Gases. These foils are especially suitable for the drugs that are easily affected by humidity as each medicine blister unit provides adequate protection which remains intact even when other units in the pack are opened and consumed.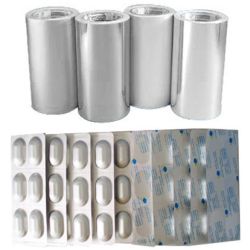 Properties
| | |
| --- | --- |
| Element | Content (%) |
| Aluminum (Al) | ≤ 98.1 % |
| Iron - (Fe) | 0.70 - 1.3 % |
| Silicon-(Si) | 0.050 - 0.30 % |
| Copper- (Cu) | ≤ 0.050 % |
| Zinc- (Zn) | ≤ 0.10 % |
| Other (Each) | ≤ 0.050 % |
| Other (Total) | ≤ 0.15 % |
| | | |
| --- | --- | --- |
| Properties | Metric | Imperial |
| Density | 2.72 g/cm³ | 0.0983 IB/in³ |