Alloy Names
UNS
A1235
ASTM
B209
Applications
Household foil is used in Cigarette Package, Aseptic Package. These foils are suitable for High speed packing applications in pharmaceuticals ,Pouches, Sachets.
Characteristics
Aluminium/ Aluminum is one of the most widely used metals today. Ease of fabrication, a wide range of finishes, and uniform quality are some of its many advantages.
These foils are especially suitable for the drugs that are easily affected by humidity as each medicine blister unit provides adequate protection.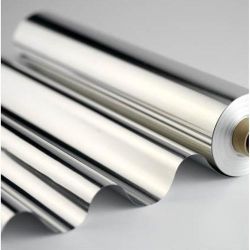 Properties
| | |
| --- | --- |
| Element | Content (%) |
| Aluminum (Al) | ≥ 99.3 % |
| Silicon-(Si) + Iron - (Fe) | ≤ 0.70 % |
| Zinc- (Zn) | ≤ 0.10 % |
| Copper- (Cu) | ≤ 0.10 % |
| Titanium- (Ti) | ≤ 0.050 % |
| Vanadium- (V) | ≤ 0.050 % |
| Manganese-( Mn) | ≤ 0.050 % |
| Magnesium- (Mg) | ≤ 0.050 % |
| Other (Each) | ≤ 0.030 % |
| | | |
| --- | --- | --- |
| Properties | Metric | Imperial |
| Density | 2.70 g/cm³ | 0.0975 Ib/in³ |